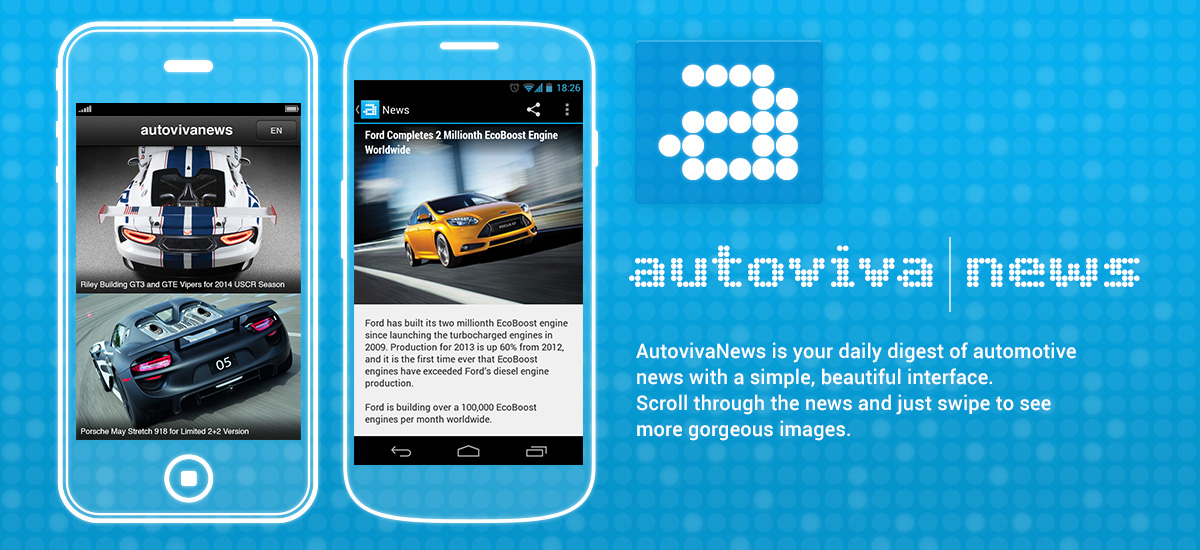 Our new app AutovivaNews is your daily digest of automotive and motorsport news with a simple, beautiful interface. Scroll through the news and just swipe right to see more gorgeous images.
No ads, No loan calculators, no subscriptions, no "6 apps in one". Just a focused, clutter free experience where you can catch up with the latest information and enjoy great photos on everything cars.
The interface has been simplified as much as possible, making AutovivaNews an intuitive and easy to use app. With two simple taps on the touchscreen you can access all the contents on the app. With a simple swipe to the right you will be able to browse through a high-quality image gallery.
With available content from both the International and Portuguese versions of Autoviva, news on AutovivaNews app are constantly updated and are grouped into three main categories. On the General category you will find all the news from industry to technology. The Green category gathers all the news about electric, hybrid and other renewable-fuel powered vehicles. The Motorsports category sums up news about racing, including all the updates from the Formula 1 season.
On AutovivaNews you can also share your favorite content with friends, family and co-workers on your favorite social media channel such as Facebook, Twitter, Google+ or Pinterest.
Inception:
2013
Client:
Memória Visual
Categories: